The grand opening of Longfor Nanjing Longwan Paradise Walk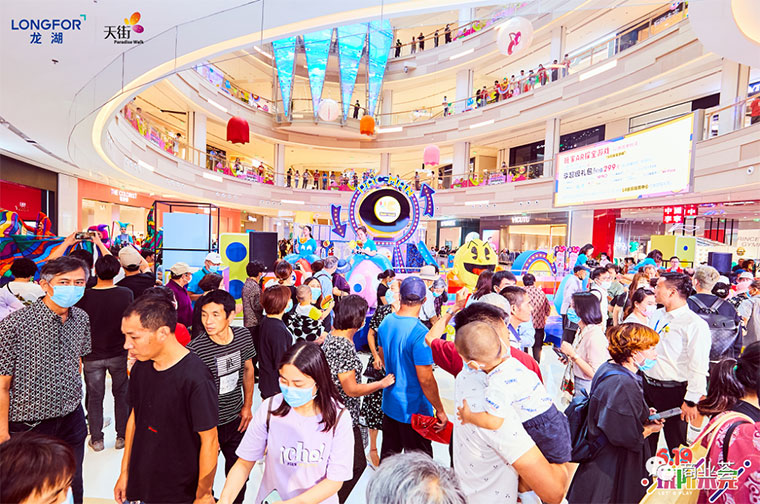 Gained high popularity at the scene of opening
On June 19, Longfor Nanjing Longwan Paradise Walk, the 40th shopping mall of Longfor Business and also the first opening shopping mall in 2020, has grandly opened, covering the business area of 177,000 square meters.
In the new commercial era with intense competition , how can commercial space stand out? Longfor Nanjing Longwan Paradise Walk employed LTECH L-BUS Lighting Control System to create differentiated and innovative commercial lighting space so as to stimulate customers' desire for shopping and leisure in the mall.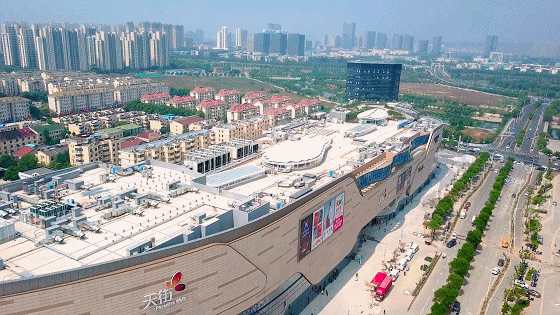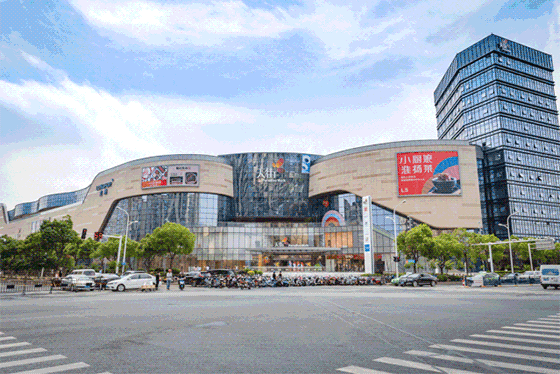 Exterior
Inspired by the idea of "The Ark Hunts Treasure", the exterior of the building of Longfor Nanjing Longwan Paradise Walk looks like the Ark sailing on the sea which symbolizes a boat filling with lives to signify a bustling and flourishing shopping mall.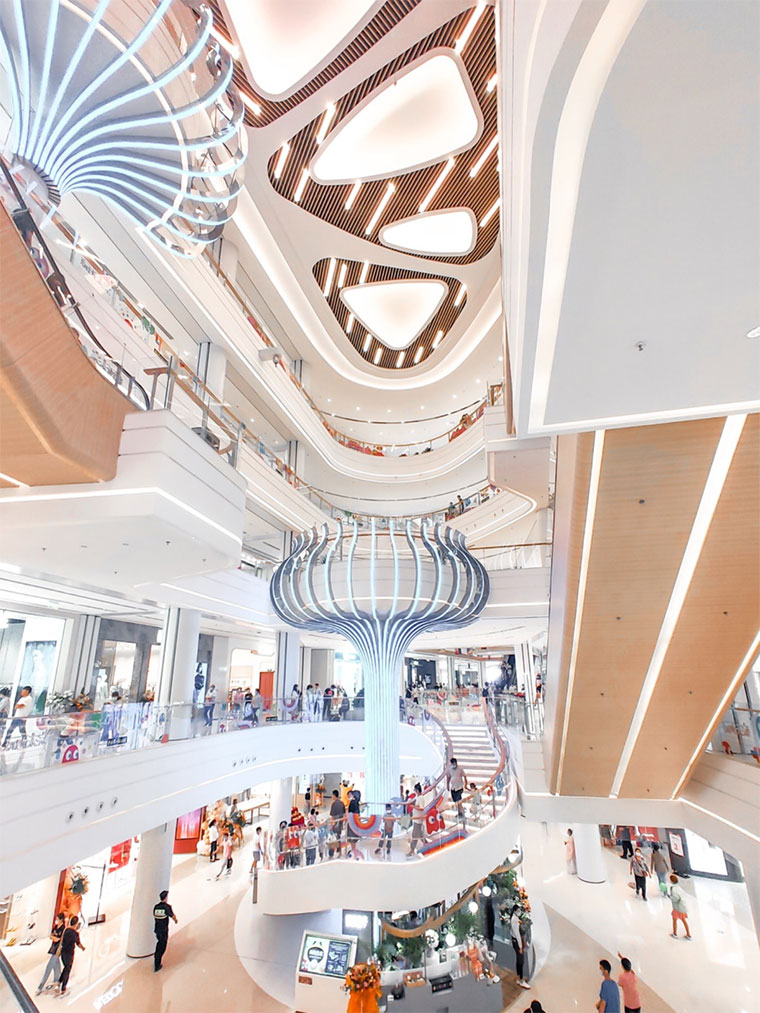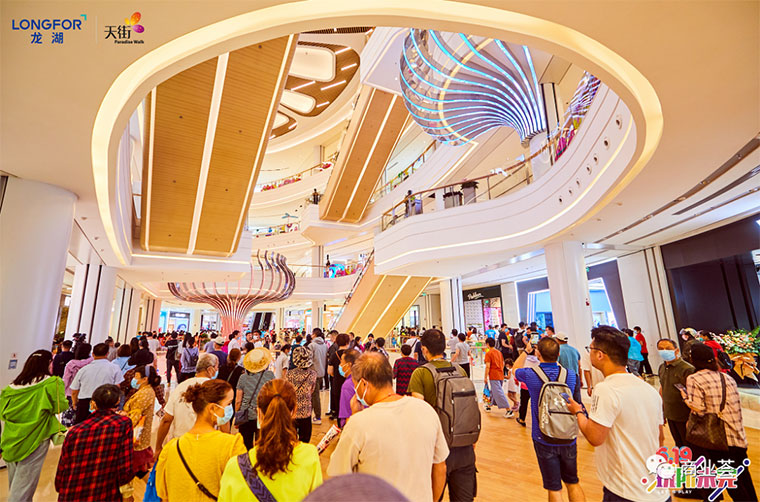 Main atrium
When you walk into the mall, the atrium come into sight first. The elevation of 30 meters and 360° panoramic views satisfy the full range of viewing experiences. The main atrium discarded the traditional boring space lighting of shopping malls. On the basis of the moving route of elevators, various lighting effects of the corridors were realized by LED strips. Besides, the outline of the main atrium was drawn by concealed the light trough, adding visual pleasures for customers.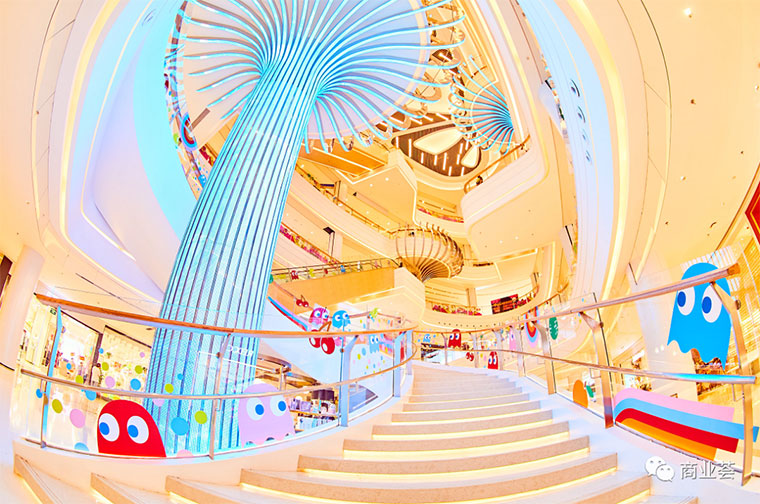 The east of the atrium
The colorful petal shape device on the east of the atrium combined with pistil shape winding stair , rising in spiral. The light and shadow are changeable. Healthy and stable lighting environments enable customers to remain leisurely and comfortable when they are admiring. Flicker-free dimming technology allows smooth images without any flicker in photos or videos.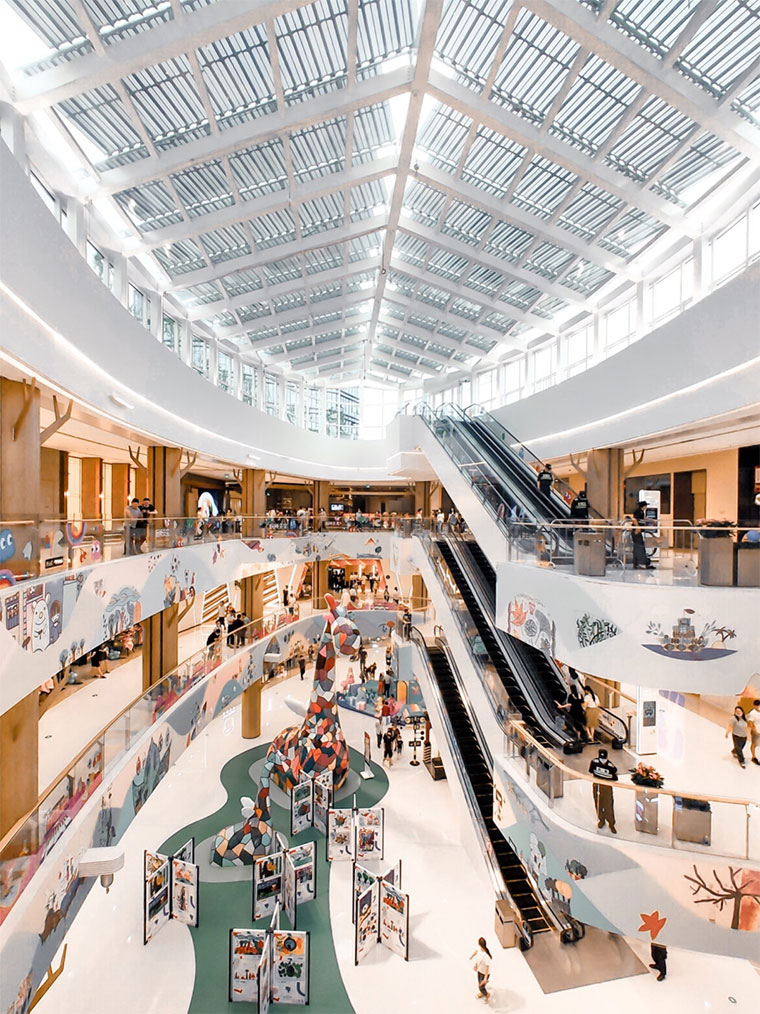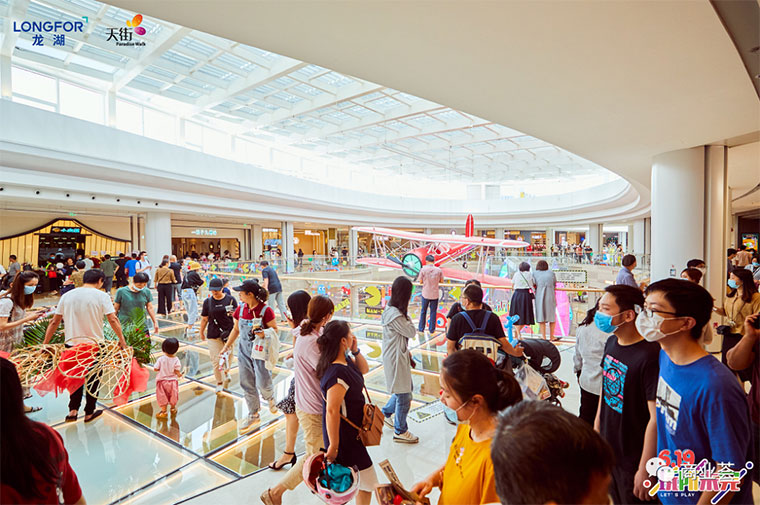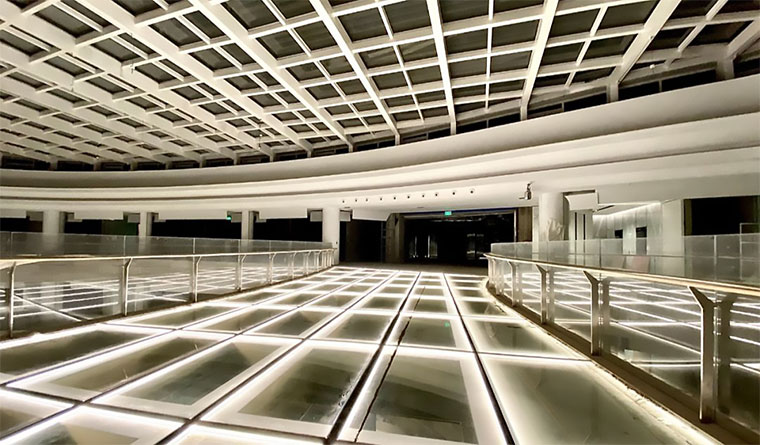 Connecting bridges
The most popular space for taking photos set up a seemingly transparent bridge which through the setting of linear lamps at the bottom, brings a sense of security with light to help customers overcome the fear of transparent glass at a height of 30 meters, and simultaneously to create a sense of fantasy of seemingly walking in the sky.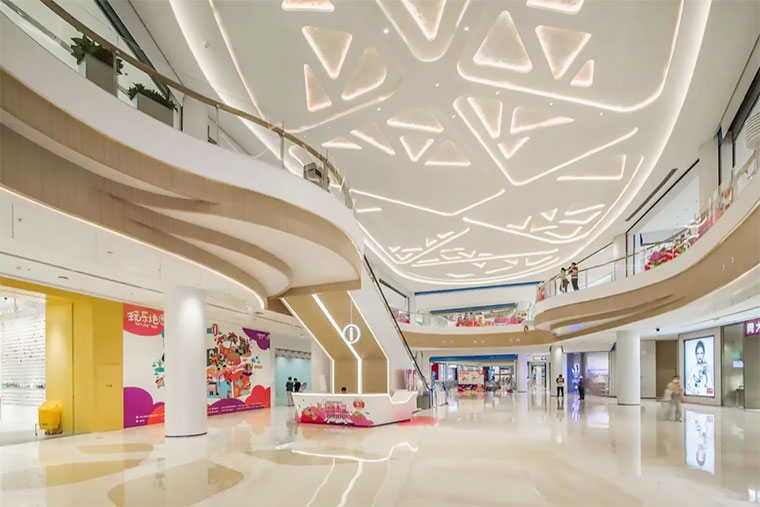 Lighting at the ceiling of the atrium
The auxiliary lighting area at the ceiling of the atrium is controlled by LTECH L-BUS Lighting Control System, which creates a rich and flexible atrium space, and satisfy the needs of dynamic lighting effects for different festivals. While it enables lighting to enrich the spatial level , it can also divide the space area, highlighting the key display effects of the space in order to create more commercial values.
L-BUS Lighting Control System
• Super Gateway: WIFI-106
Wifi-106 controller is the core gateway of LTECH L-BUS Lighting Control System. A wifi-106 controller can realize control of dimming, tunable white, RGB, RGBW, RGBWY of multiple regions and groups. Its dimming color is fine, homogeneous and smooth which satisfies customers' ultimate pursuits of lighting. It supports wired and wireless connection.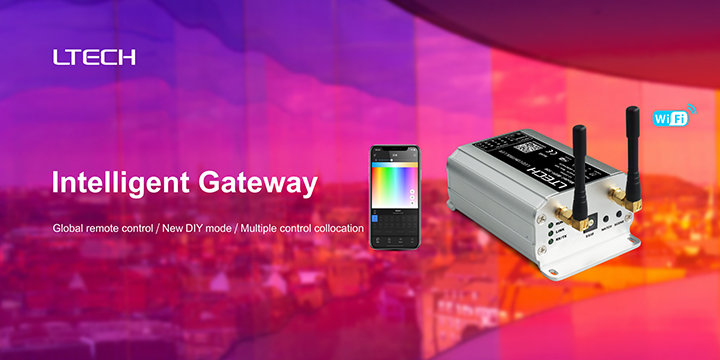 • Multiple Control Modes:
LTECH L-BUS Lighting Control System supports multiple control modes, such as WiFi / remote controllers / panels / sensors, making lighting control more intelligent and humanized. It is suitable for multiple signal dimming modes, such as touching-type, rotated dimming type and range-based touching control types. Through mobile devices, such as mobile phones and tablet PCs, LED lighting products can be remotely controlled by WiFi function.
• Wireless Connection Stable and Efficient:
LTECH L-BUS Lighting Control System integrates WiFi signals and RF signals and it effectively reduces interference that by means of wireless converters can be matched with DMX,Phase cut, 0-10V signal dimmable drivers.In early period, no wiring is needed that facilitates the construction and the design can be adjusted according to local conditions latter. High-speed and stable transmission signals bring seemingly like wired operation experiences for projects.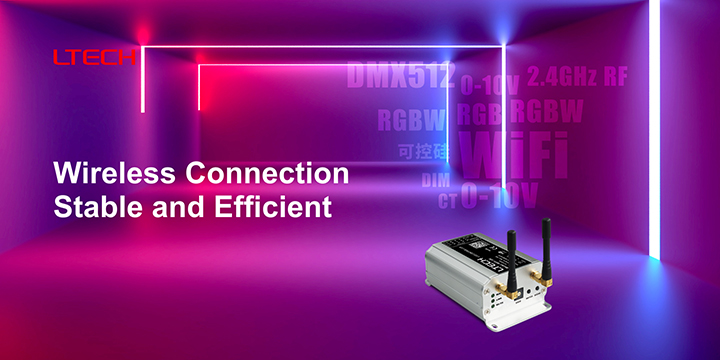 • Customized Scene Modes:
LTECH L-BUS Lighting Control System is capable of customizing a variety of scene modes and setting exclusive scenes whenever you like, which enable engineering lighting to be more rich and observable.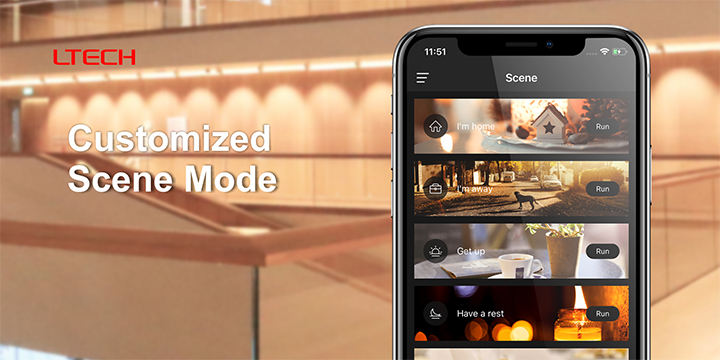 • Timing Mode:
The timing function of LTECH L-BUS Lighting Control System is able to set specific time for specific instructions in accordance with requirements, and to be used with scene modes for lighting regulation.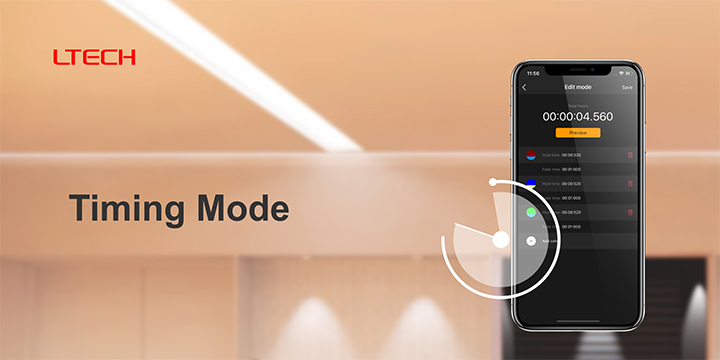 • Relay Function:
LTECH L-BUS Lighting Control System can work with relay products to realize long-distance transmission. According to the field test, LTECH L-Bus Lighting Control System can control a region of space within 5000 ㎡ under the full wireless condition. And if under the wireless and wired condition, it can control a larger region of space and easily solve problems of site complexity and wide space in projects.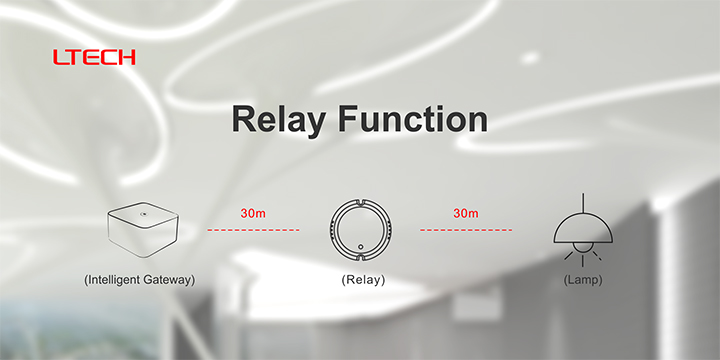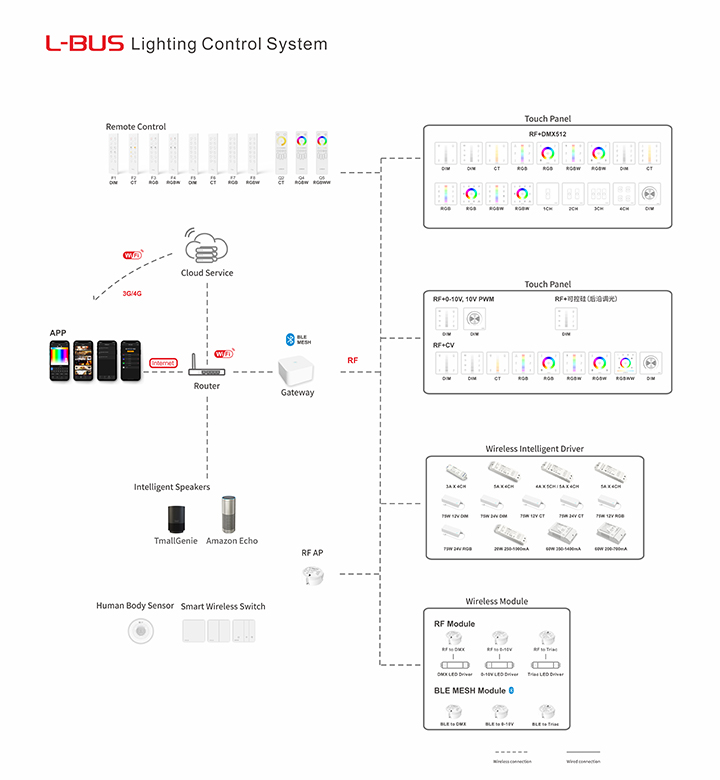 System diagram