In the past half year of 2018,LTECH not idle for a moment. LTECH frequently appeared at international exhibitions in Mumbai in India, Bangkok in Thailand, Amsterdam in the Netherlands, and Frankfurt in Germany. At June,LTECH appeared at Moscow International Architecture and Design exhibition.
The 23rd Moscow International Architecture and Design exhibition and Moscow Architecture
Biennial hold at the same time
Date:May.16-20,2018
Address:Moscow Arts Center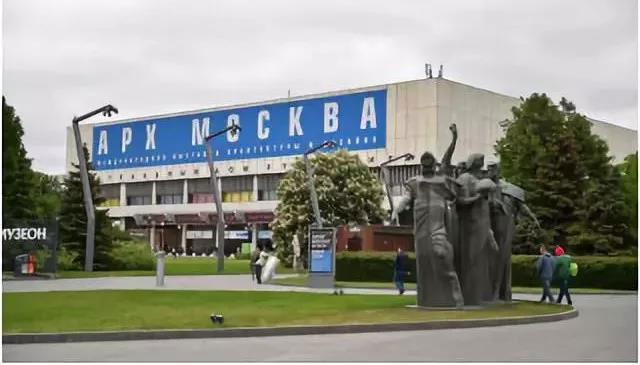 Exhibition brief introduction:
Russia as the largest country in the world have enormous potential. In the last six or seven years, Russia's annual economic growth rate has remained at between 6% and 7%. Such active economic environment has led to the prosperity of the construction industry, and the Russian lighting market has also been strongly promoted.Outdoor and indoor lighting demand has increased significantly, imports of lighting products have increased a lot also. This business opportunity has attracted various countries, especially Chinese lighting industry . No one wants to miss the huge market of 150 million Russian consumers.

The 23rd Moscow International Architecture and Design Exhibition benefited from the background of economic developed. Compared with the initial of its establishment, it has made great progress not only scale but also influence. Over the past 20 years, more and more exhibitors have participated in this exhibition, brought these elites of architectural design from the West and Russia. Many exhibitors have paid great attention to the interior design of building and lighting is an important part of it.
Therefore, this exhibition attracts many countries lighting brands and related manufacturers. This time , Russian distributor under LTECH name exhibited at the fair. And showed LTECH star products : WiFi-104 control system, various touch panels, Mini series LED controller, etc., and showed complete indoor lighting intelligent control system solution.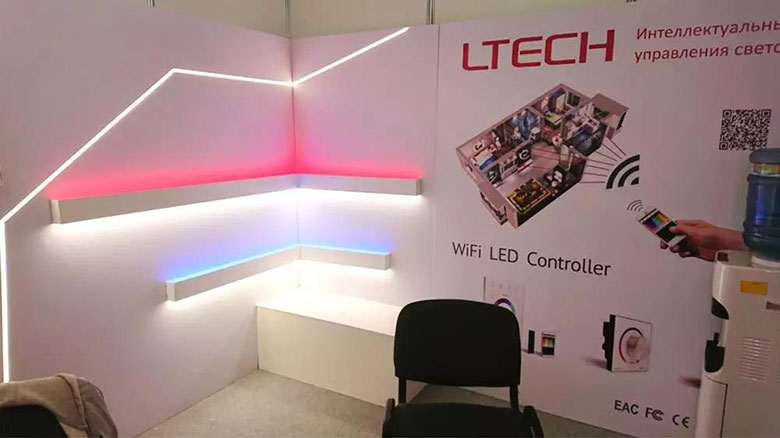 LTECH WiFi-104 system is a versatile lighting intelligent control system, install APP on mobile devices, through the device build-in Wi-Fi can remote control kinds of LED lights : dimming, color temperature, RGB and RGBW. It also supports max 12 zones. It makes LED lighting control more intelligent, networking and humanization!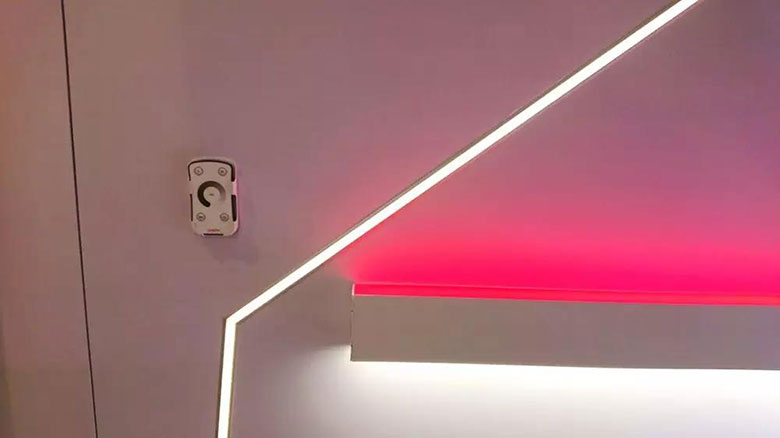 Beside WIFI-104, customers are also interested in LTECH touch panel, simple and elegant design, customers can experienced the biggest superiority of LTECH dimming : PWM digital dimming , brightness change without color temperature change, deep dimming, the light is stable ,flicker free even if brightness is 0.1% , these items are widely used at kinds of commercial projects. DMX, 0/1-10V, DALI,Triac mainstream protocols are compatible with most brands of lighting control system.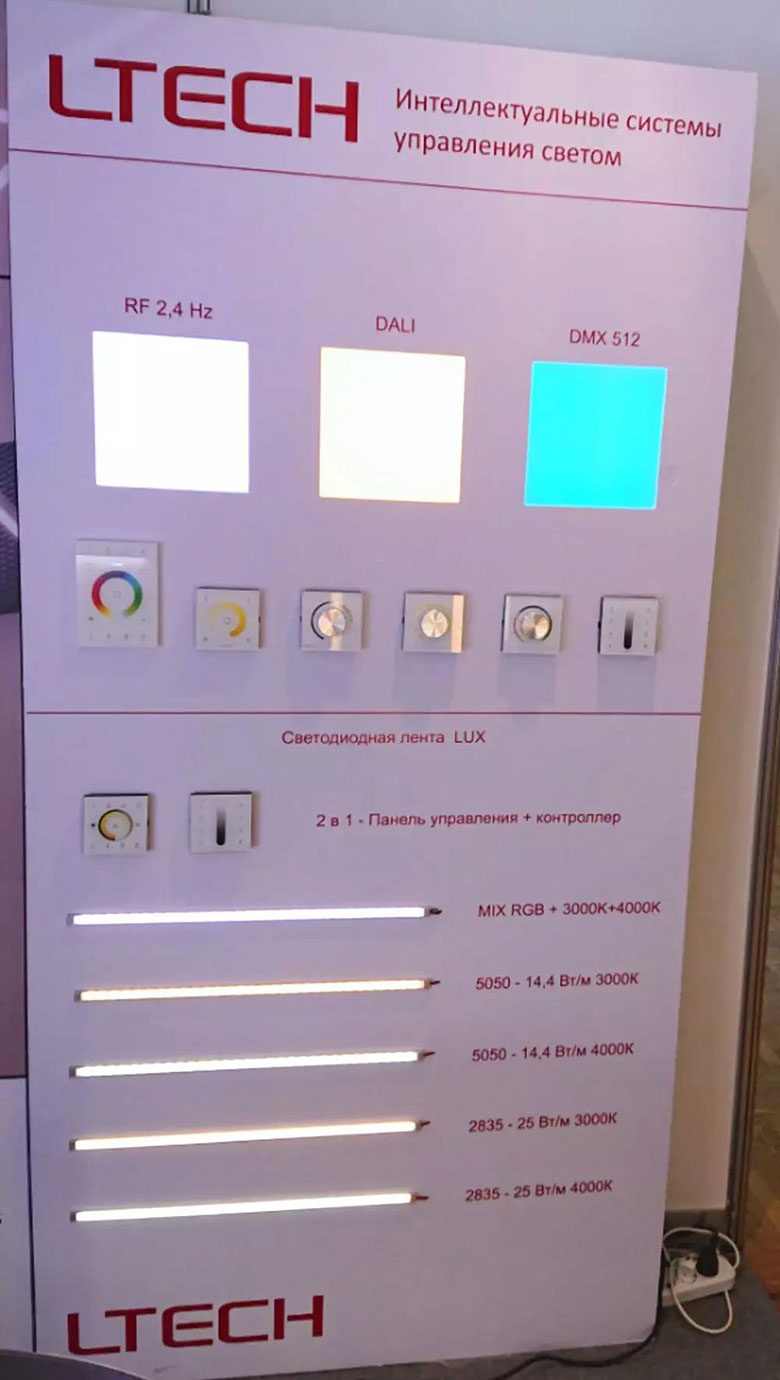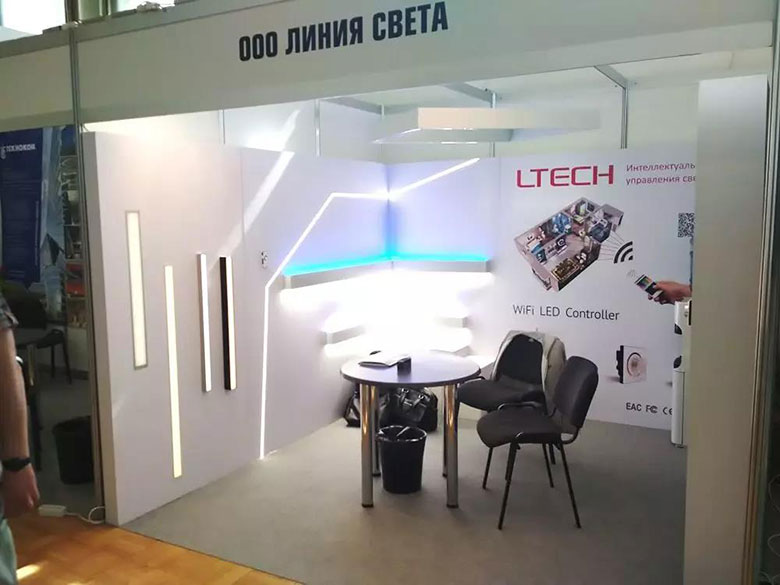 According feedback from distributor, demand of intelligent lighting controller is large, and LTECH has technological advantage in this area. Lots visitors visited the exhibition booth ,not only the distributor find a large number of potential customers and a huge market space, but also received very consultations about LTECH product, even customers placed sample orders on the exhibition.
Compared with other worldwide famous brands,LTECH's products are is competitive. As the leader of LED controllers, LTECH has been insisting on research and innovation in intelligent lighting control since its establishment 17 years ago. Researched and produced many leading technologies lighting control systems and devices.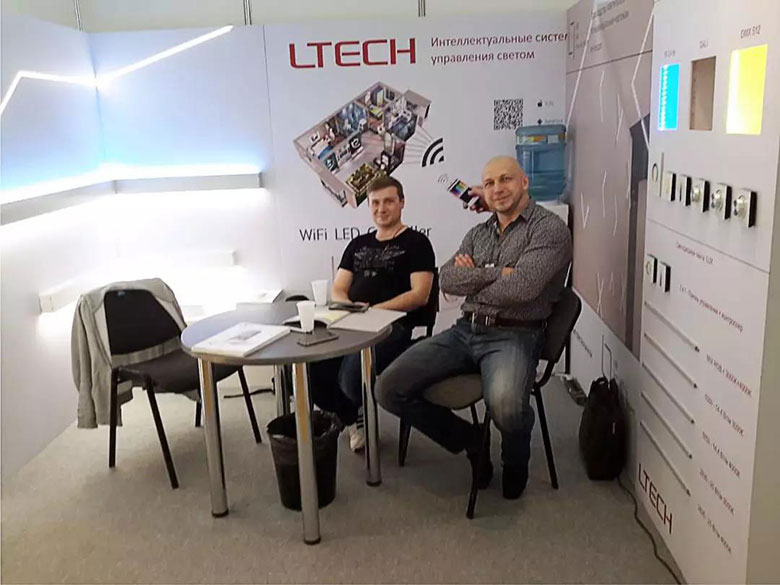 Just 5 days of the exhibition, LTECH used his 17 years of research and development achievement outstood at the fighting nation's exhibition ,and showed the unique charm and strong strength of LTECH brand to these came exhibitors. 2018 Moscow International Architecture and Design Exhibition is one station for us to go international stage. In the future, LTECH will continue to sail all over the world and let more people know LTECH brand!