2016 Guangzhou International Lighting Exhibition is just around the corner, many exhibitors are carefully prepared. But to stand out among all these exhibitors requires products innovation and brand strength.
At this exact Fair, LTECH with 15 years leading technologies in lighting control field will launch its brand new smart home control platform--L-home.
L-home is an Intelligent household interconnected system based on smart lighting control.By working with ali cloud, amazon AWS, Microsoft Azyre the world's largest providers of cloud services to build a stable & reliable cloud interaction management service platform which remote controls lights / all kinds of household appliances /security equipment/energy management etc., allows users to implement the unified management of various brands devices & scenes and creates a more intelligent, comfortable, safe, energy-saving living environment.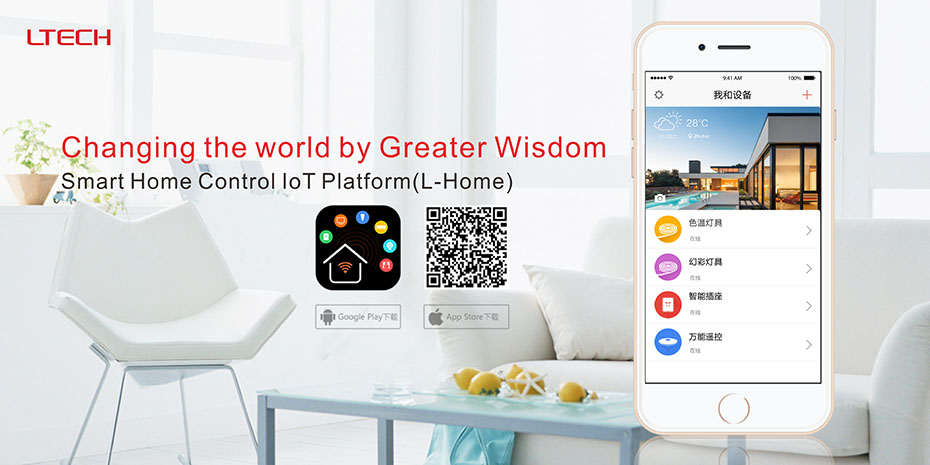 Build a Stable and Secure Operating Platform
LTECH has invested heavily in collaboration with the world's largest cloud service providers( Aliyun, AWS, Azure etc.), which guarantees the worldwide stability and reliability of L-home Smart Home Platform and enables users in different regions automatically match the local optimal cloud server to connect to the terminal device . Users are always worried about the network security and privacy leakage. L-home supports the cloud security, account security, data security, network security and other security mechanisms, able to fully meet the safety requirements of the user.
The communication hardware L-home uses is Zigbee wireless protocol. Zigbee is characterized with the advantages of low power consumption, security, huge network capacity, ad hoc networks and router relay function. Currently Zigbee protocol has been widely used in networking hardware. The ad hoc networks and self router relay function are its biggest advantage. Products claiming with Zigbee communication module in the market , in fact, many of them do not have these two functions, thus can not automatically choose the best path for signal relay transmissions between multiple devices, so that the distance and reliability of wireless signal transmission are greatly reduced, just as the ordinary wireless module, making no big difference. Early since the rise of Zigbee from abroad, LTECH engineers have started doing basic technology research, so they have a more thorough understanding of the protocol, and now are making the full play of the above Zigbee advantages in L-home products.
In addition, ZigBee provides three-level security pattern, including no security settings, using access control lists (ACL) to prevent illegal access to data and the use of the Advanced Encryption Standard (AES 128) symmetry password to flexibly determine its security properties, therefore ensuring the safety of the family ZigBee network.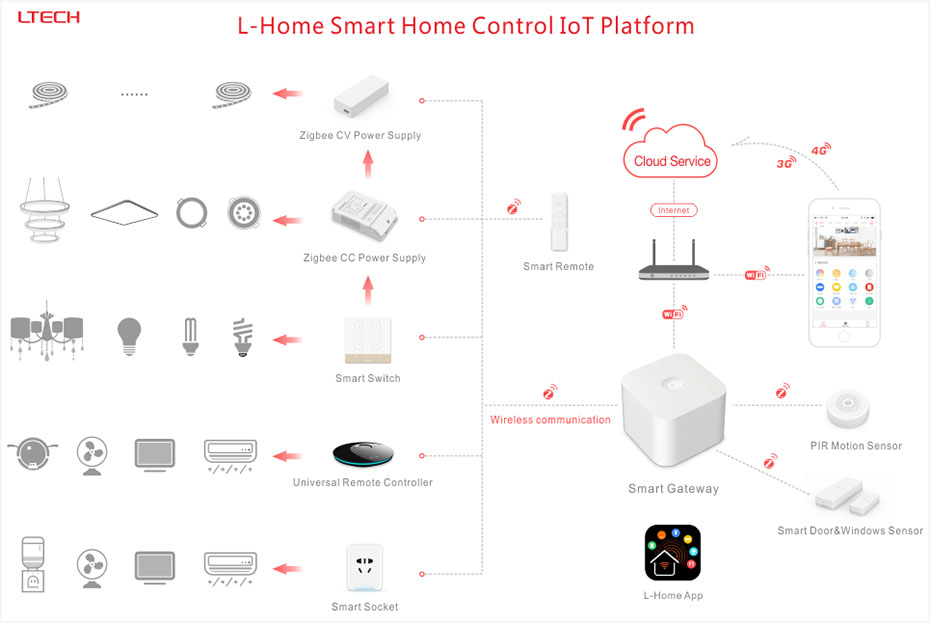 system diagram
Highspeed operation, Dimming Stepless adjusted
In general, we believe that dimming is a very simple thing, but cloud-based Intelligent Lighting Platform need to achieve dimming stepless adjusted of this technology has made countless heroes' bow in homage. "
The Fundamental reason is smart home system based on cloud platform ,the luminance of a luminaire need stepless dimming , even used locally, Also need to transmits each data to the cloud platform and then return transferred hardware. Speaking exaggeratedly, the data transmitted to intelligent lighting is half a world away, It is strict with the transfer method of cloud platform underlying system and the gateway processing capability. Otherwise will be dimming slow response, Flicker, Jammed that affects the user experience feelings of dimming operation.
It only need some simple switching commands and a low rate in most Smart Home Appliances electrical equipment. But in the field of intelligent lighting, stepless dimming or music dynamic effects requires a lot of real-time data transmits and high rate, so most of the smart home platform to develop the transport protocol does not take into the strict standard of lighting control, just like some famous internet companies set up lighting control of intelligent home platform only can achieve a low rate sending instruction,and only multi-file dimming, APP slider 0-100% can only select files in several grades, chosen CT value or color value is the same reason, only multi-gear selection or will be delay after selected , can not be continuously adjustable.


LTECH has extremely perfect requirements of light switch, will never let the user loss experience, LTECH really know: there is no market does not pay attention to the user experience of products-just do the best if want to do. So at the beginning of the ray intellectual home platform, with the highest standards as a guide, in order to realize the intelligent device speed, high load capacity. On the platform, in the process of the establishment of the elite, research and development efforts, overcome the difficulties, eventually did whether networked control or broken network LAN steplss dimmer, can achieve consistent perfect dimming effect, also for a large number of various intelligent hardware connection, opened a spacious open highway.
multi-level intelligent、multiple interface control
At present, most of the smart home products on the market is too rely on the network, if the router without internet, all high intelligent device is completely paralyzed, unable to use, from mobile phone also can't control, the design is not smart.
Xianlei intellectual home for users to create the home of a mobile management. Xianlei support 3G, 4G, Wi-Fi network remote control and local Wi-Fi, LAN, intelligent control, all automatic switch, the user does not need to do any selection switch, or simply don't have to understand the network layer. We do complicated things, users only need to do the most simple operation.
The device can be controlled, realized timing setting, status of them and data messages can also be achieved via 3/4G/Wi-Fi by L-home, when you are not at home.
Back home, L-home can connect home router automatically, even the internet doesn't work, the LAN will make sure devices can be workable.
Besides controlled via App, L-home supports touch panel, remote,sensor, location and many other control methods.
Modular design, more flexible
The smart hardware is a modular design, single control and system control are available, single item can be worked by direct connection without the gateway.
Systematic products can be multiple combined into packaged solutions, dozens of hundreds of devise also can be combined into a whole house system solutions, users buy the combination as needed, increasing or decreasing the intelligent device arbitrarily, both does not have any effect,it is very convenient to install.
No matter users use single product or systematic products, only need to use one XiaoLei App to realize the linkage control.
In the aspect of intelligent lighting, any household lighting deveces both can be controled, not only the traditional fluorescent lamp,filament lamp,celling lamp, but also realize the dimming, CT, color changing for variety design of LED lighting, XiaoLei both as intelligent home furnishing system and as intelligent home lighting system.
Moreover, with simple installation devices 80·90 generations can get connective installation easily as well as old people and child.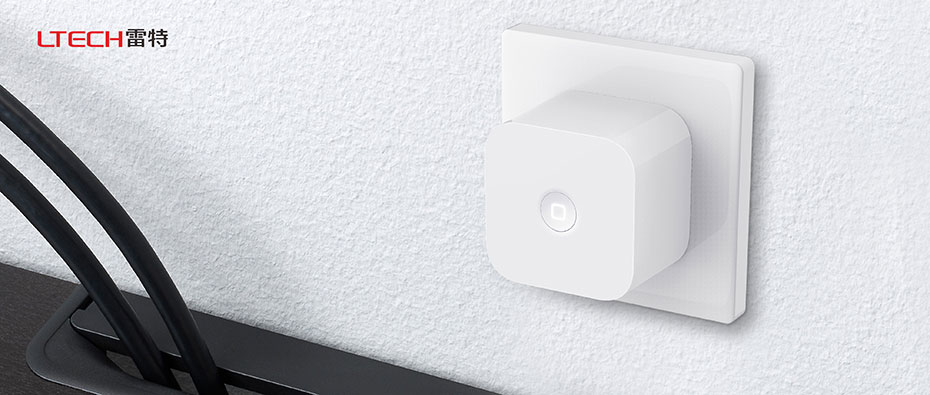 Smart Gateway
More smart scenes Many play ways
The final goal of Xiaolei smart home is making self perception and self learning ability smart system. Xiaolei smart home's willing is to create an equal, open and interconnected system with all internet, lighting and home appliances companies.
L-home smart home internet system has initialized scale with intelligent lighting、smart home series product come into production at the same time more intelligent products will be developed. Xiaolei smart hardware supports remote firmware update, more new functions and more new hardware devices will offer to users. The coming new version will add human-machine voice interaction and more smart scenes. Those humanized and intelligent functions will support users using all kinds of devices more simple at home.
The world's biggest lighting exhibition & LED ASIA exhibition
Date:9-12 June 2016
Add: China Import and Export Fair Comiex Guangzhou, China
Company: ZHUHAI LTECH TECHNOLOGY CO., LTD.
Booth No.: Area B F/2 12.2 LED Drivers: B10