Foreword
All along we all have a vision, expectto be able to create such a system: suitable in different occasions, wireless transmission of information instantaneously, multi-function collocation allows you to use more easily. It is so smart that you can meet the needs of different lighting fixtures and different types of control on different occasions in the market by one key. So that you can manage large-scale places such as museums, hotels, shops, entertainment venues and restaurants, and make project management more convenient and better lighting quality. Moreover this vision, finally with the arrival of LTECH L-BUS commercial lighting control system has become a reality. Now, just see a face of LTECH L-BUS Commercial Lighting Control System.

System Introduction
We often face engineering problems such as diverse signals, complicated control methods, various type of lighting fixtures and so on. For this reason, LTECH L-BUS commercial lighting control system integrates the whole lighting industry dimming system, and converts different types of lighting control methods into a single control through wireless RF signals, with a variety of signal converters, to achieve a variety of Wi-Fi signal system to meet the market for different occasions, different lighting fixtures, different types of control needs. Compatible with different equipment type of different manufacturer, easy to solve the traditional features of the old system with less function and complex problems, to bring intelligent wireless transmission of new ways for the project.
☆System Introduction
WiFi-106 controller is the core gateway of LTECH L-BUS commercial lighting control system,and realize a WiFi-106 controller for dimming, color temperature and color control. Multi-zone control, and support for two network connections for direct connection or go through the router to connect.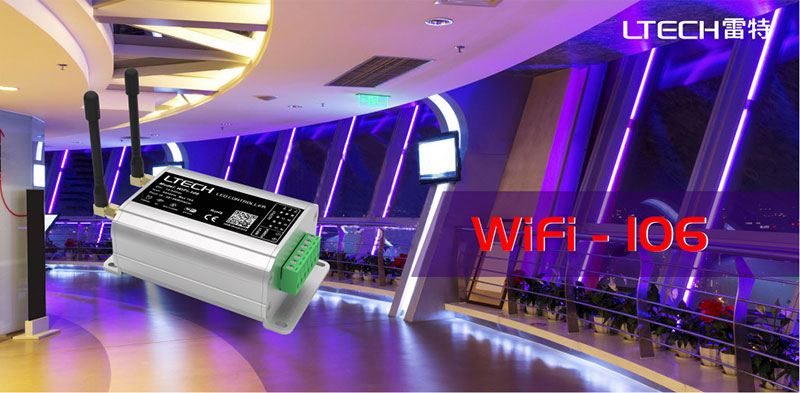 ☆Multiple Control Methods
LTECH L-BUS Commercial lighting control system, support Wi-Fi / remote control / panel / sensor etc multiple control methods. Suitable for touch power type, knob dimming type, range touch control and other signal dimming methods, through mobile phones, tablet PCs and other mobile devices through the Wi-Fi function remote control LED lighting products.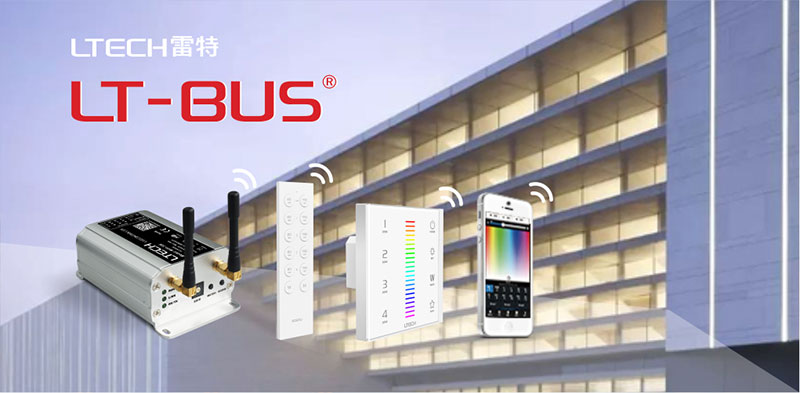 ☆high compatible communication protocol, high speed and stable transmission signal
LTECH L-BUS commercial lighting control system integrates Wi-Fi signal and RF signal to effectively reduce the interference phenomenon, and can be matched with DMX, Triac, 0-10V signal dimmable driver through a wireless converter and is perfectly compatible with DIM, CT , RGB, RGBW and other types of lighting fixture, high-speed and stable transmission of signals to bring the project as cable-like operating experience.
☆Custom scene mode
Light L-BUS commercial lighting control system can customize a variety of scene modes, set the scene dedicated to make the project with more visible lighting effect.
☆Timer mode
L-BUS commercial lighting control system's timer function can be set according to demand for a specific time to implement specific instructions, and with the scene mode lighting control.
☆Relay function
LTECH L-BUS commercial lighting control system can be used with the relay products, to achieve long-distance transmission problems. After field testing, if the LTECH L-BUS commercial lighting control system can control the space area within 5000㎡ under all wireless conditions, it can control a larger space area under the wireless + wired condition. Easily solve the project with site-complex , space-wide issues.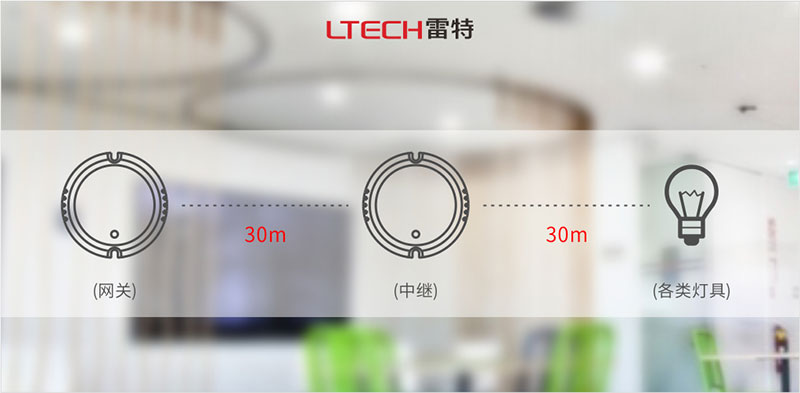 LTECH L-BUS commercial lighting control system enables lighting control of a variety of signals can be transformed into each other, with different signals match with a single product, different modes of light adjustment, the perfect integration of various medium-sized projects, powerful features that allow you to have infinite extension on projects.
Einstein said: "Imagination is more important than knowledge," because knowledge is finite, and imagination encapsulates everything in the world, promotes progress, and is a source of knowledge evolution. LTECH is not only carries the dream of improving the human environment with lights, but also shows the charm of the light with the hard strength of combining the existing leading technologies to turn dreams into reality.