June 12, 2017, "the 22nd Guangzhou international lighting exhibition" has been drawn a satisfactory full stop. In the joint efforts, LTECH technology in this exhibition traffic hit a record high, LTECH technology sincere thanks for it.
During the exhibition, with high temperature hot, but the scene surging, crowded, regardless of the exhibition or exhibitors, everyone's enthusiasm was not affected by the weather, visible light show is not well-known, charm unlimited.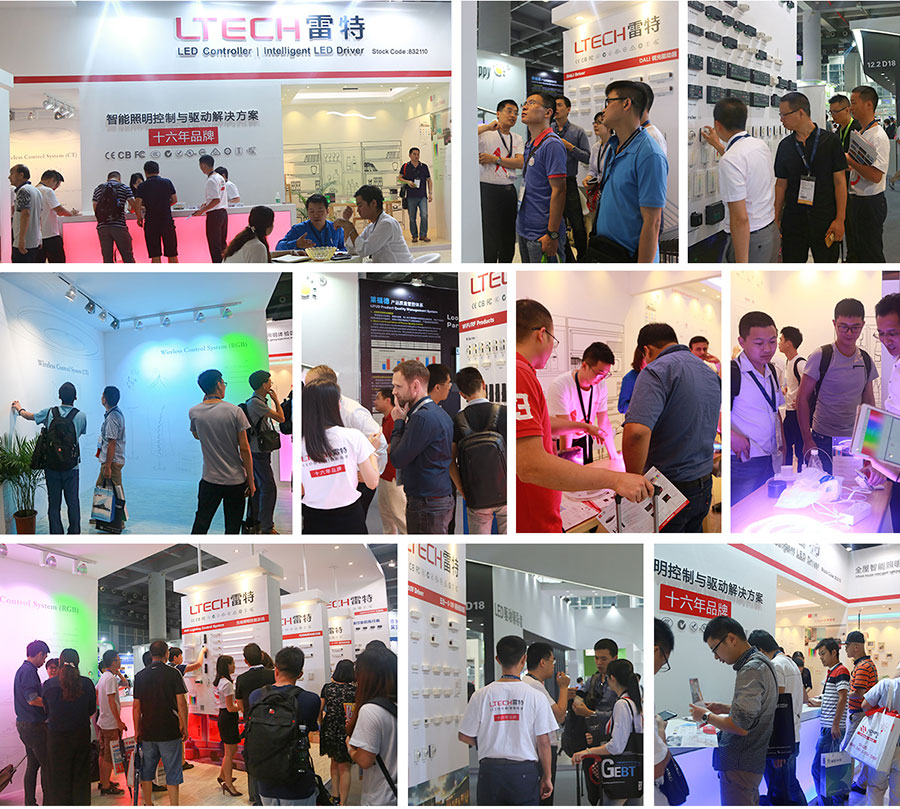 (exhibition hall)
12.2 hall booth in the exhibition, continued the usual simple fashion style, red and white contrast of the main colors not only attract domestic and foreign distributors, customers, but also by the industry's first-line media attention, the perfect interpretation of pragmatic innovation and professional lighting concept.
During these 2 days, LTECH sales warmly welcome a large number of domestic and foreign merchants to visit the consultation. In order to allow customers to LTECH products performance with a more in-depth understanding and understanding, sales people carefully explain to each customers for detailed products analysis, so that customers are deeply felt LTECH good professionalism and mental attitude. Sweat and success is always proportional to the efforts of LTECH, booth seat without seats.
(exhibition hall)
LTECH exhibited DALI, SCR, Wi-Fi and other products, LTECH exhibited intelligent LED dimming driver using a patented technology, products in key technical indicators, intelligence and reliability have a big breakthroughs, with high PF value, high optical performance, PWM digital dimming, no flicker, wide voltage, multi-current and many other advantages, have reached industry's highest level or beyond the industry level, by domestic and foreign customers.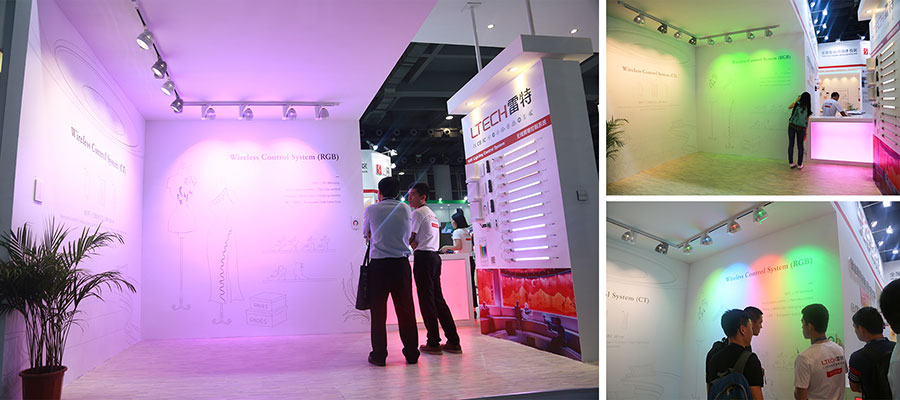 (The business lighting wireless control experience area)
(0.1% -100% depth dimming range experience area)
The most popular one is the intelligent lighting system (Wi-Fi to Zigbee),which won the ALIGHTING Award.This is a smart home internet system with intelligent lighting. The booth of Xiaolei science and technology experience area are filled with customers coming from all over the world, all like to personally experience the function of remote connect illumination lamps ,all kinds of electrical equipment and human sensor, brings to the customer a pleasure of unified manage different brands equipment and scenes linkage.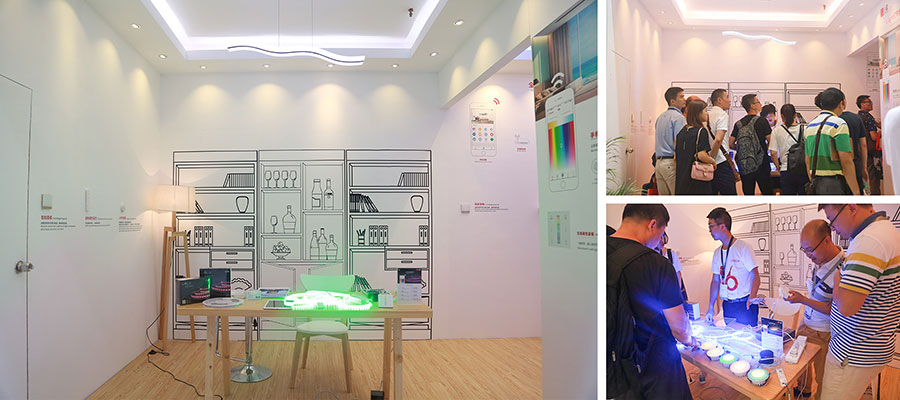 (Xiaolei Whole House lighting system)
Besides, LTECH exhibition site are in full swing, and BBS are also wonderful.
2017 Guangzhou lighting fair continuation of the last year idea of "Thinking about lighting", the future of lighting is still an important proposition in lighting industry. LTECH actively take part in BBS activities, share R & D results with other counterparts.
LTECH's subsidiaries Xiaolei Technology, the smart home product won the ALIGHTING Award, very popular at BBS site.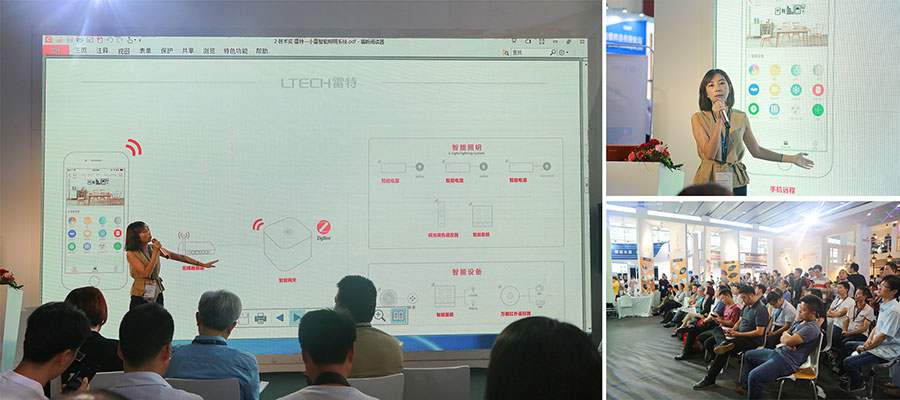 (LTECH marketing manager, Yangxi is speaking on the Alighting lighting technology BBS)
Happy time always so short, it's coming to an end unconsciously. LTECH's booth still full of customer even though the lights were turned off at the show, and police officers whistled and urged exhibitors and guests to leave.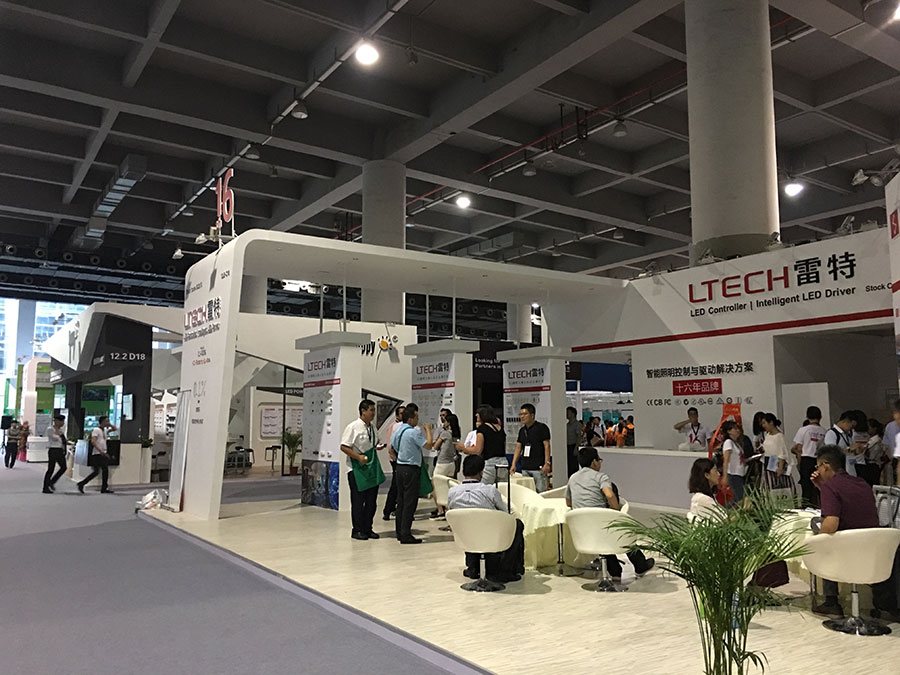 (LTECH's booth after closed)
LTECH have benefited a lot from this lighting fair, all leave the most beautiful marks when we leave.
LTECH exhibition has a perfect ending, the success of the exhibition depends on the customer's support, we sincerely thanks the trust and support of all of customers, it would be the best encouragement to let LTECH continue. Let's look forward to the future - See you next year!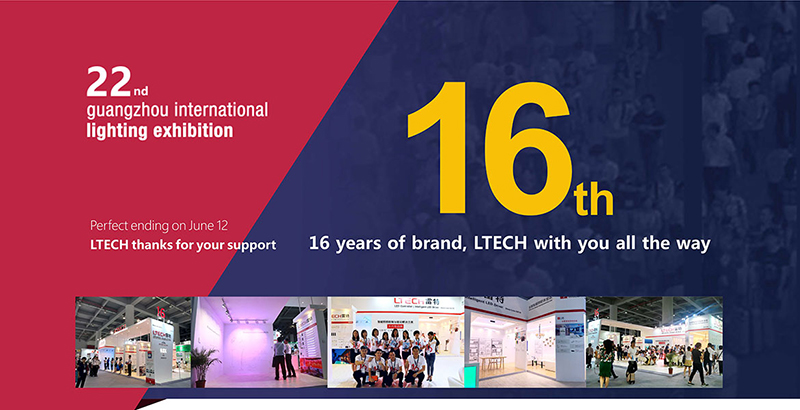 LTECH 16 years brand accompanying with you!