TmallGenie AI intelligent speaker, which was developed by Alibaba and won the 2018 Red Dot Design Award, is not only a speaker, but also covers lots of humanized intelligent functions.
Recently, TmallGenie appeared at Ltech booth of 2018 Guangzhou International Lighting Exhibition. Which meaned Ltech wholly-owned subsidiary, Xiao Lei Technology was officially on at TmallGenie Intelligent Paltform, in another words, we can control TmallGenie via Xiao Lei APP.
If you have a TmallGenie and Xiao Lei products at the same time, then you can:
Update the newest L-home APP firstly.
Then find "Smart Home" at "My" button on the interface of TmallGenie.
Then touch "Add devide" and find the red logo of Xiaolei.
Finally binding it to your Xiao Lei account will be OK.
TmallGenie smart speaker has gradually known in the market. The three types TmallGenie products TmallGenie X1, M1 and C1 have established technology docking with Xiao Lei smart home products. All their operation is easy and similar. Officially speaking, the control distance of TmallGenie in family is 3-5meters, but according to our practical testing, the control distance can be farther in relatively quiet environment.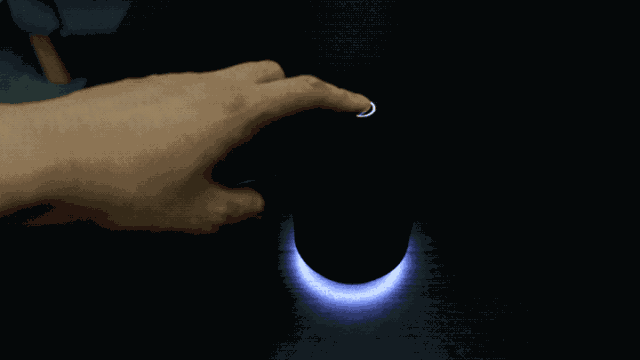 The bottom of Xioa Lei universal remote will display red light when the mute turns on
So now how we connect Xiao Lei products with TmallGenie? Only if updating L-home APP and buy a TmallGenie, we can voice control Xiao Lei products via voice function of TmallGenie. No matter Xiao Lei newest products, or the previous such as L-light led strips, Intelligent Universal Remote2.0(IR version), Intelligent Universal Remote3.0(RF version), wireless switch panel etc, all support voice control. Now let's see the operation video below.
TmallGenie x L-light strip suit
As the star product of Xiaol Lei, L-light intelligent light strip has been very popular all the time. It used to support Xiao Lei L-home APP, remote control and panel, now, only need connect Tmall with Xiao Lei, add light strip device in APP, could control light strip on-off, brightness and colors through voice!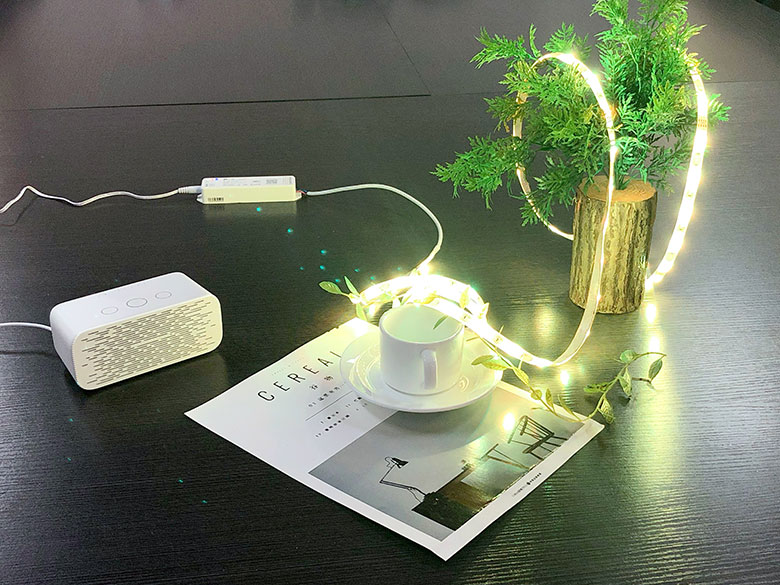 TmallGenie x Intelligent Universal Remote2.0
For the Intelligent Universal Remote (infrared version) controlling the air conditioning, TV, fans and other infrared devices in the home, some users find it a little complicated to use mobile APP for indoor operation.Therefore, TmallGenie voice control could solve this problem very well, even the old people and children can easily control home appliances via voice, such as video issue instructions to achieve appliance switching, air conditioning temperature setting, TV channel selection and other basic operations.
TmallGenie x Intelligent Universal Remote3.0
On the basis of infrared appliance control, XiaoLei Intelligent Universal Remote3.0 ( intelligent gateway) add RF devices control, including curtain motor, dimming lamp, CT lamp, panel switch (traditional lamp).That is to say, the realization of voice controlling more appliances equipment and lighting, especially the voice control of curtain switch and dimming of lamps make users feel more convenient.
Voice control light video
Current is the new era of big data and AI intelligent interactive application, LTECH is also advancing a series of new products in the intelligent hot field deployment and application, so the cooperation of subsidiary corporation XiaoLei with TmallGenie makes intelligent household in terms of interaction and experience also following users, improving step by step, bring more and more rich application and smoother use feeling, in addition to smartphones, make us enjoy more fun through intelligent speakers.