Triac technology is more than half a century, after the Triac dimming technology, the lighting industry has adopted 0-10V analog dimming, DMX512 and DALI and other mainstream digital dimming protocol . However, the Triac dimming technology with more advantages, one is the history heritage reson, the other is without a signal line, without changing the simplicity of the original line, low cost, construction easier to use welcomed by the engineering side, so the Triac dimmable driver occupies the largest market share in the dimmable driver industry.
Nowadays, most of the Triac drivers on the market are made with a general-purpose Triac constant current IC. The compatibility is generally poor, the dimming effect is poor, and the lamp has a narrow range of adaption and is prone to flashing, resulting in unsatisfactory overall effect of the project. In view of this status of Triac drivers on the market, LTECH exclusively launches triac dimmable drivers with "AI" artificial intelligence recognition technology. There are drivers of four different power outputs including 15W, 20W, 25W and 30W for options, which provides you with different dimming experience.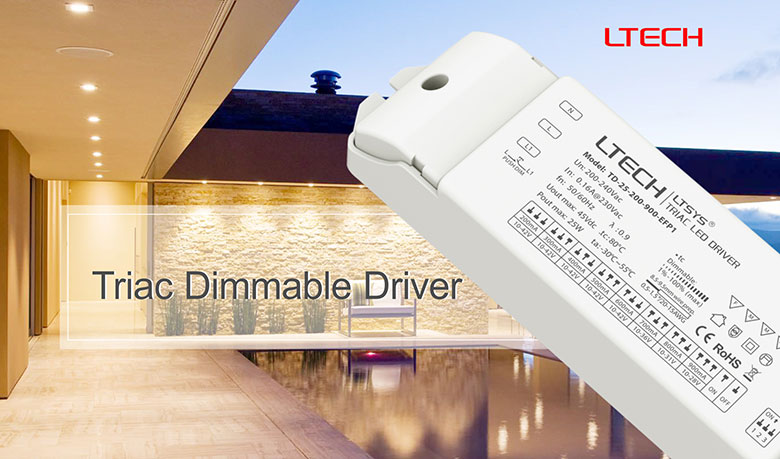 Artificial intelligence, high compatibility
Low frequency current ripple(<120Hz):<2%
The non-flickering index reaches the assessment exemption level
The flickering index throughout 0-100% brightness reaches the national standards and even the assessment exemption level. High quality dimmable LED drivers provide users with healthy lighting environment without hazards.
0-100% dimming range, minimum 0.1%
T-PWM digital dimming technology is adopted, which realizes dimming effects of more comfortable visual feeling. What is more, it will not alter the color temperature of LED when dimming, and maintain the best color rendering index and lifespan of LED.
Wide voltage range, wide current range with 8 output current options
Take the 25W Triac dimmable driver for example. It has 8 current options: 200mA, 300mA, 400mA, 500mA, 600mA, 700mA, 800mA and 900mA. Convenient use for various applications.
Multiple protection, more secure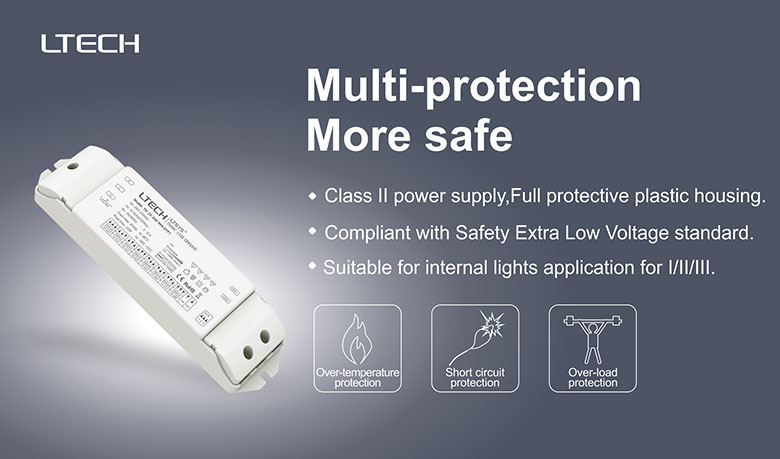 Full protection plastic housing is not only fashionable but also safe. It has short circuit, over load and over-temperature protection, providing all-around protection to light fixtures and drivers.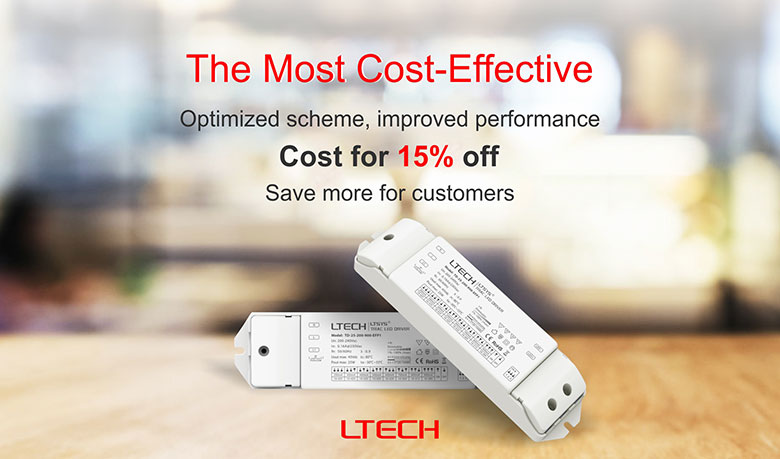 Each iteration made by LTECH brings significant upgrade on product experience. Focusing on actual applications at home and abroad and technical challenges, LTECH adopts internationally leading technology on Triac dimmable drivers and achieves excellent dimming performance, providing best choice for projects. We look forward to your appreciation on our Triac dimmable drivers with AI recognition technology.
For details please contact sales representatives of LTECH
Or call 400-716-8928