On 21st March, China (Zhongshan) Intelligent Illumination Standardization Application Forum was hold in Zhongshan, it was jointly organized by China Soled State Lighting Alliance (CSA), China Advanced Semiconductor Industry Innovation Alliance (CASA) and China Standardization Research Academy Public Safety Institution. The forum focuses on the discussion and communication of Intelligent Illumination Standardization Application, and Xiaolei Technology attended as a co- organizer.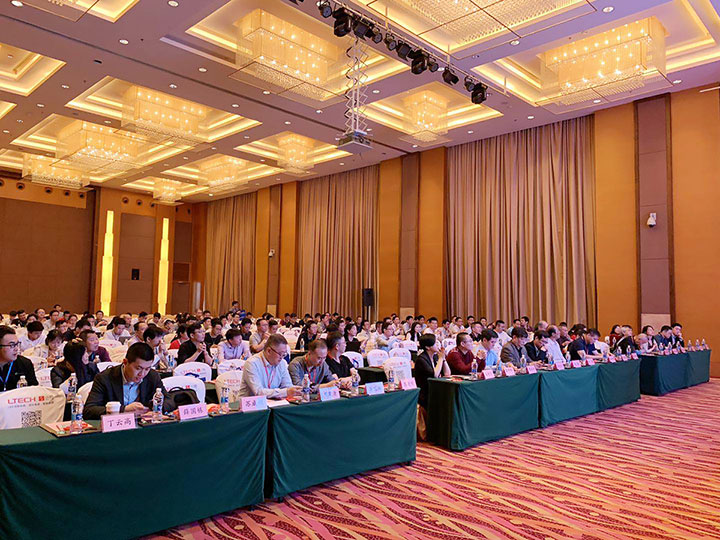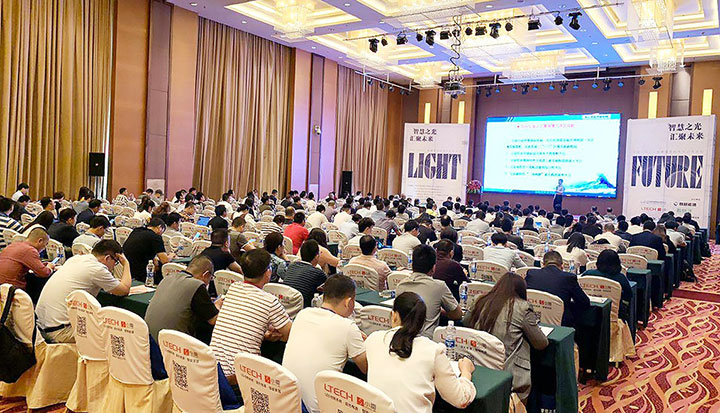 China (Zhongshan) Intelligent Illumination Standardization Application Forum 2019
Xiaolei Technology's COO, Mr. Long Haiqi Made a report of Smart Home Controlling System Technology and Solutions--the New Trend of Human-oriented Intelligent Control.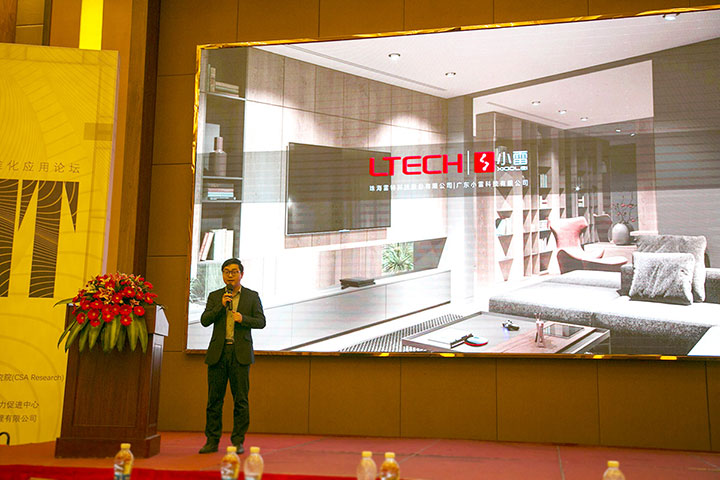 Mr. Long Haiqi, COO of Xiaolei Technology
"Human-Oriented Lighting" which as first presented by Stan Walerczyk in 2012, now becomes a new trend of intelligent lighting.
What is Human-Oriented Lighting?
Human-Oriented Lighting is taking people as the centre, except meeting the standard of illumination ratio and brightness, more importantly is to provide a healthy, comfortable, and effective lighting environment according to the space, situation, light ray, climate as well as physiology and psychology these characteristics when in use.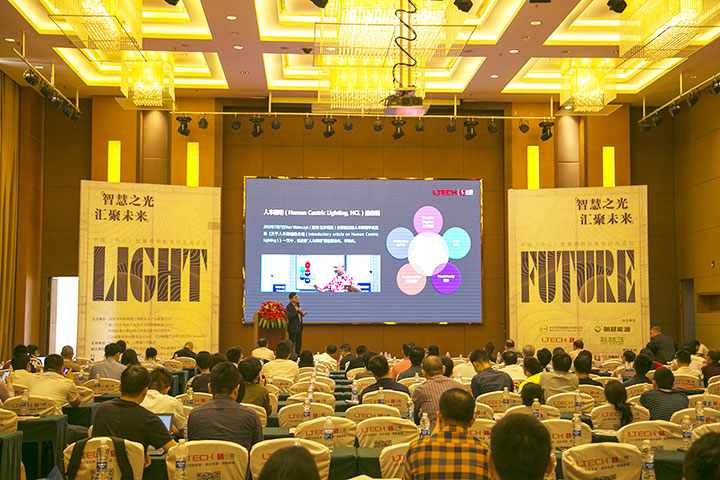 Xiaolei Technology has always taken Human-Oriented as object, depends on its parent company LTECH's Flicker-free Dimming Technology, provides a comfortable and natural artificial light, also taking the stepless dimming technology to realize the changing of brightness and color temperature, through the enhancement of sensor technology and intelligent control, developed the Xiaolei Smart Home Lighting Solution.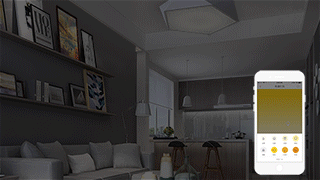 Stepless Dimming Technology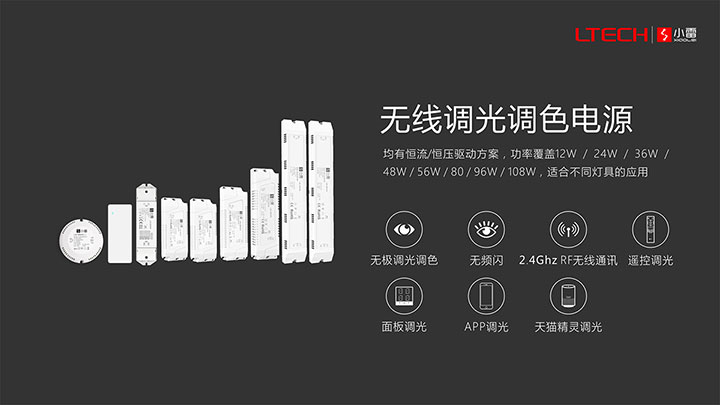 Wireless Dimming, CT, RGB, RGBW Driver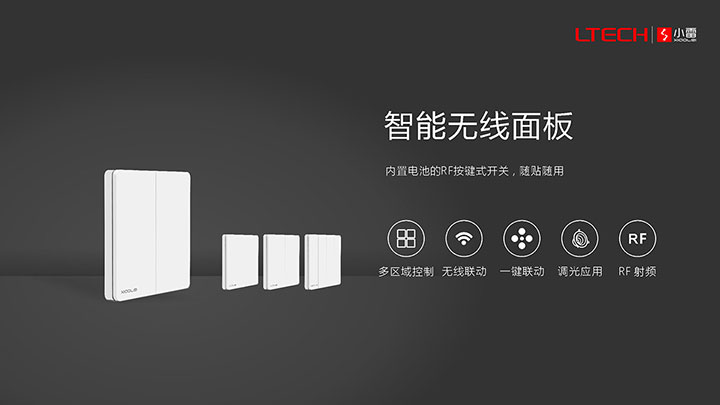 Wireless Intelligent Panel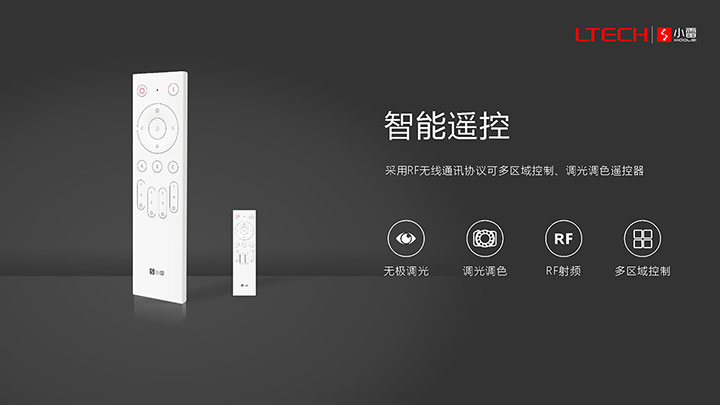 Intelligent Remote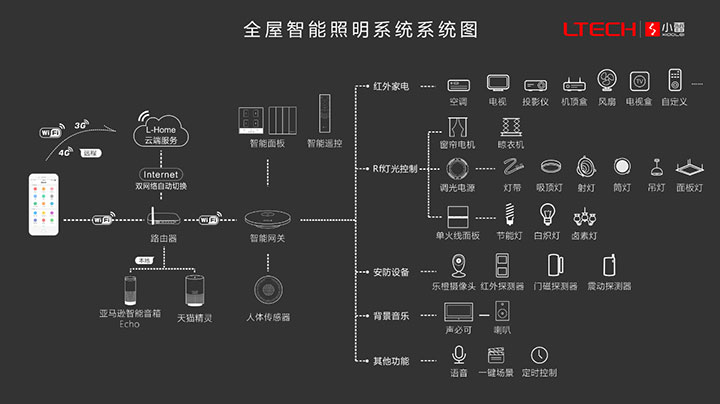 Xaolei Smart Home Lighting System Diagram
Xiaolei Smart Home Lighting System integrates Wi-Fi, 2.4GHz, IR, 433MHz, 315MHz, BLE Mesh and so on wireless protocols, taking Cloud + APP + Terminal one-stop whole house control as the solution. It contains 8000+ IR Code of popular home appliance, combines all the traditional electric products such as air-conditioner, TV, Set Top Box, TV Box, Sweeping Robot, Electric Curtain, Electric Clothes Hanger, and Security Alarm together to control via Remote, Switch Panel, Smartphone APP and so on wireless equipment. It is a smart home interconnection system based on intelligent lighting and intelligent control of home appliances.
Xiaolei Smart Home Lighting Application Video
What's more, Xiaolei provided a Smart Home Lighting System Display Zone for guests operation and communication face to face.