On July 15, 2021 China Smart Home Integrated Service Summit was successfully held in Kuntai Hotel Beijing. The summit focused on the smart home regional market in the northern region, conducting discussions on smart home regional development prospects. Great results have been achieved in this summit.
China Smart Home Integrated Service Summit in Beijing
As a special guest of the summit, Mr. Long Haiqi, LTECH Marketing Director of Smart Home Division, delivered a wonderful speech on the theme of "From Beginning to Implementation, Explore the Development Path of Smart Home".
Understand the trend- build a lighting-based whole house smart home system
In the speech, Mr. Long Haiqi sorted out the development stage of smart home.From PC era to mobile Internet era, and to IoT era,the intelligent lighting industry in China ushered in an era of big development and integration, which offers professional and systematic lighting design services. Intelligent lighting products that meet the aesthetic sense and the needs of young consumers have sprung up.
On the spot of Mr. Long Haiqi's speech
With 20 years of technology accumulation and outstanding innovation capabilities, LTECH, as the world's leading manufacturer of intelligent lighting solutions, closely follows the development trend of the mobile Internet and the Internet of Things,actively develops an overall plan for development and integrates it into the field of smart homes. Also,LTECH released the whole house smart home system with the "Super Panel" as the core item to control other smart devices. The philosophy of "Create a Healthy and Comfortable Lighting Environment"is integrated into LTECH Smart Home. Relying on lighting-based whole house smart home system, LTECH Smart Home become an important force in the industry.
Carry out implementations—Create a wide range of products to enrich your smart life
Mr. Long Haiqi said that smart home must be a living environment for a family that is composed of a system. LTECH manages audio-visual devices, environments and intelligent lighting through the Internet of Things, artificial intelligence, network communication and other technologies to build a mature industrial chain structure of smart home and consequently to create a convenient, comfortable and healthy home environment.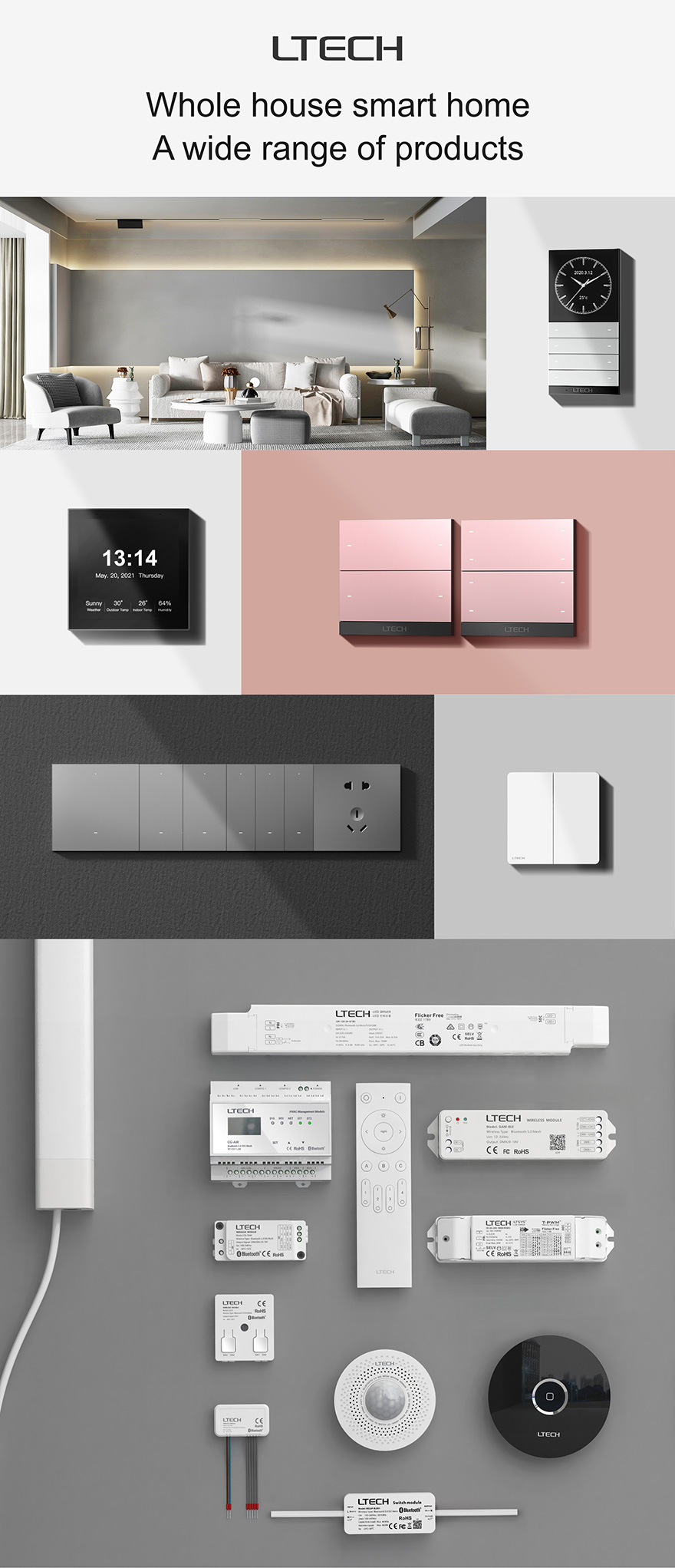 A wide range of products of LTECH Whole House Smart Home
LTECH set out to build its own cloud service in early 2015. LTECH L-Home Cloud Service is built on the Alibaba Cloud IoT platform, which seamlessly links intelligent lighting with more smart devices through the use of home appliance modules and the AI smart platform.It propels the intelligent upgrade of the 100 billion level commercial lighting market.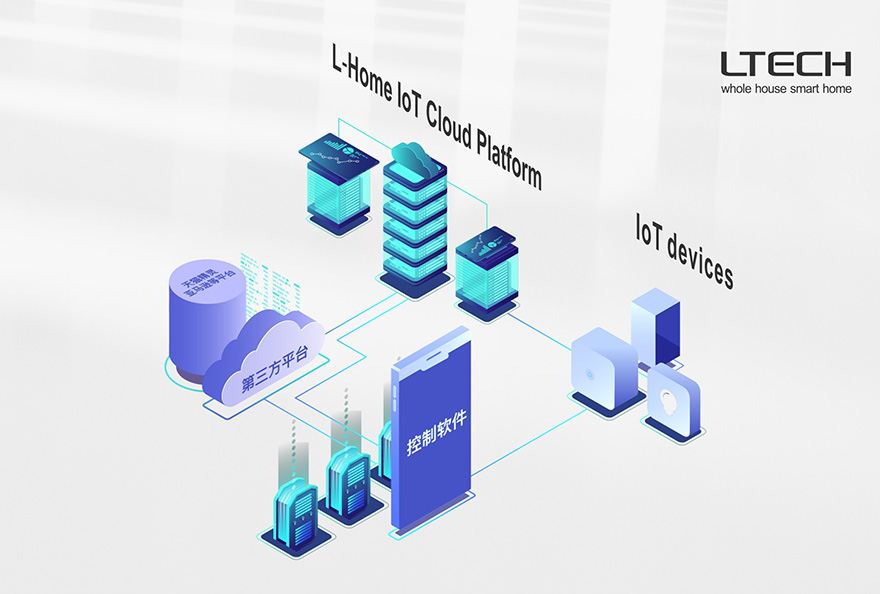 LTECH Cloud Service Platform
LTECH's whole house smart home system is compatible with Wi-Fi, 2.4GHz, IR infrared, 433MHz, 315MHz, BLE Mesh.It provides one-stop solutions to control the entire smart home which enables end-end implementation by transferring data to the cloud and providing the ability to manage users' devices via the App.Smart devices from over 1,000 brands work with LTECH's whole house smart home system, so you can take control of your air conditioning, TVs, set-top boxes, TV boxes, floor mopping robot, electric curtains and electric drying racks by using a remote, a panel, your voice or the APP.Besides,you can link up multiple smart devices together. LTECH's whole house smart home system is a lighting-based control system that can control your home appliances as well.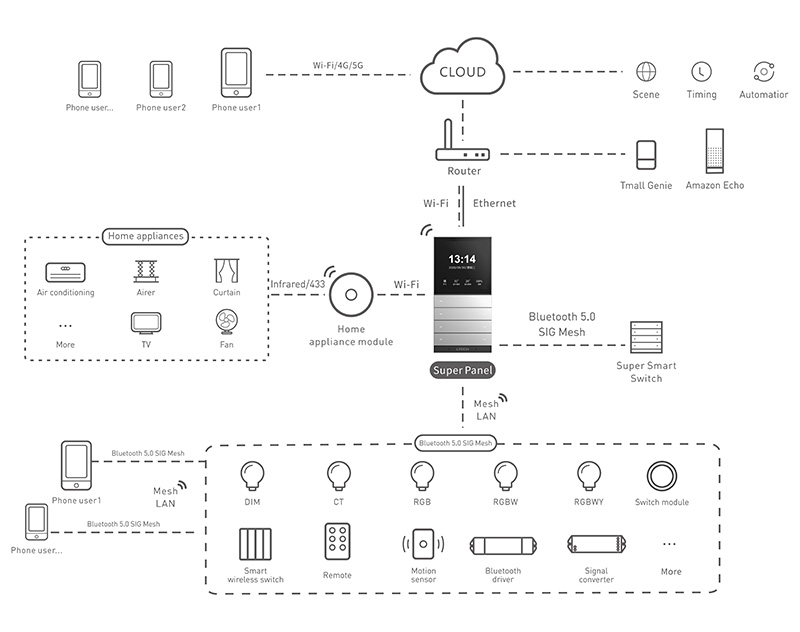 LTECH Whole House Smart Home System Diagram
After recognizing your voice"I am home", the lights and home appliances will be automatically turned on to welcome you home.And you'll enjoy the ritual of coming back home. when you leave home, turn off all home appliances in the house from one button without any cumbersome operations. When you're on vocation, all appliances can be turned off remotely via the APP which you left them on. LTECH whole house smart home system can always care for your life in every aspects through whole house intelligence.
Video of living scenes of LTECH whole house smart home
At the summit, LTECH demonstrated the whole-house smart home system with the "Super Panel" as the core item, which attracted wide attention and gained praise from the industry.
LTECH's showcases at the summit
Scenes are richer, stability is higher, operations are more convenient... LTECH whole house smart home system truly provides a life with whole house intelligence for you in the 5G era. From 3rd- 6th August, LTECH will display the super space experience area at Guangzhou International Lighting Exhibition where you can experience smart living scenes, and feel the charm of smart home more intuitively.LTECH booth: 9.2,B02. We sincerely welcome you to visit our booth.