On October 27th, 2021 Smart Home Integrated Services Summit &The 8th CSHIA Returned Scholars Association was held in The Longemont Shanghai.
As an annual industry event in the field of smart home integrated services, the theme of this submit was "Figures·Intelligence·Innovation·Changes". It has gathered together the excellent companies of smart home industry and regional integrated service power to jointly figure out the industry development direction, thus acting as a channel and a platform for smart home workers to learn and improve themselves. Mr. Long Haiqi, LTECH Marketing Director of Smart Home Division, was invited to the summit and gave a speech on the theme of " Create a luxury home space with human-oriented ", who also combined the project cases to shared his experience during the speech.
Smart home must serve people
Smart home industry has gone through three major development stages: from product-centric smart era to scene-centric smart era and now to human-centric smart home era. However, what is a true smart home?
Curtains will open and all lights in the house will light up when you arrive home from work.
Lights in the bedroom and living room will automatically turn off when you're ready to sleep and ask Alexa to turn lights off.
All lights and home appliances in the house will turn off with just one tap when you leave the home.
......
Above is the smart home scenes controlled by LTECH smart home control system. As Mr. Long Haiqi shared with us at the summit: a true smart home must serve people and meet people's needs, providing timely, personalized and smart services.
LTECH smart home control system is intelligent lighting- based
LTECH smart home control system is intelligent lighting- based. Through the Internet of Things, artificial intelligence, network communication and other technologies, LTECH unify smart gateways, smart home appliances, speakers and other smart devices to build smart ways of living by the use of multiple interaction modes. It aims at creating a convenient, comfortable, healthy and safe living environment, which is truly the luxury home space with human-oriented.
Cutting-edge technologies +20 years of experience in dimming lights
As a leader of intelligent lighting in 5G era, LTECH has cutting-edge technologies and nearly 20 years of experience in dimming lights. The T-PWM super deep dimming technology it developed can dim lights down to 0.01%, and its strobe level of drivers have reach high frequency exemption level. LTECH always focused on Human-centric Lighting, which can control almost all types of light fixtures for the purpose of creating a healthy and comfortable lighting environments to meet different demands and the demands of scene atmospheres.
L-Home Cloud Service Platform
LTECH started to build its own cloud service in 2015. The L-Home Cloud Service is built on the Alibaba IoT platform. Through home appliance modules and the AI platform, intelligent lighting and more smart devices are seamlessly connected to create convenient, comfortable and healthy living environments.
Core competencies of AI+IoT+Cloud+Actuator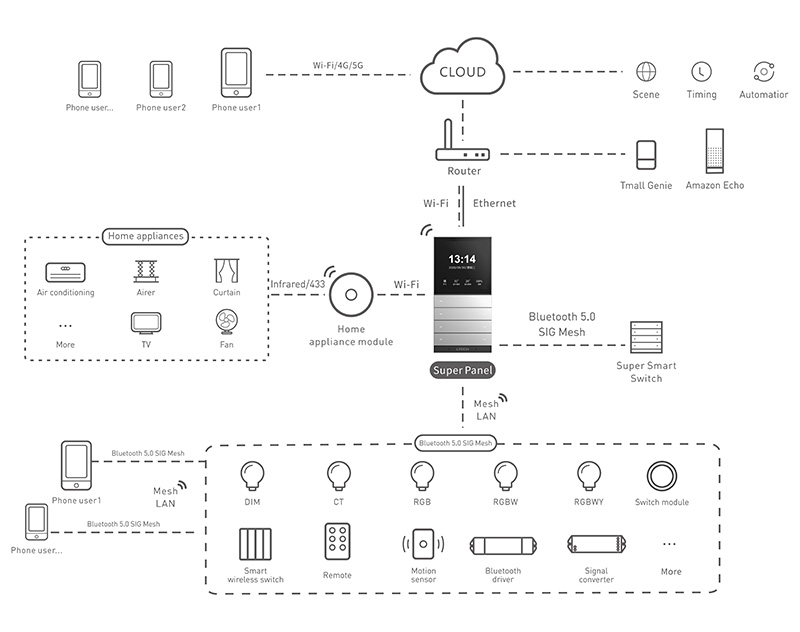 With possessing the core competencies of AI+IoT+Cloud+Actuator now ,LTECH enables end-to-end solutions for whole house control by transferring data to the cloud and providing the ability to manage users' devices via app. Based on centralized control panel Super Panel and whole house smart home operating system L-Home platform, we take whole house intelligence into account and provide products and systems ranging from intelligent lighting, intelligent sun shading system and music system to achieve linkage between different devices from several hundred major brands.
One stop smart home products
At the summit, LTECH set up the Smart Home Control System Experience Zone, showcasing a wide variety of smart home products, such as Super Panel, Super Panel MINI, Premium Series Smart Switch and Utility Series Smart Switch. And the interaction modes were demonstrated as well, including mobile app, voice command, touch screen and button.
High quality dimmable LED drivers were on display. LTECH intelligent dimmable drivers are compatible with four dimming interfaces (DALI, DMX, 0/1-10V, Phase cut), and deliver smooth and flicker-free lighting. In the LTECH smart home control system, LED drivers can connect to other smart home products to create diversified scenes.
Powerful home appliance modules and a wide range of intelligent hardware were on display.Through home appliances and AI platform, air conditioners, TVs, fans, curtain motors and other smart devices can be seamlessly connected in the LTECH smart home control system.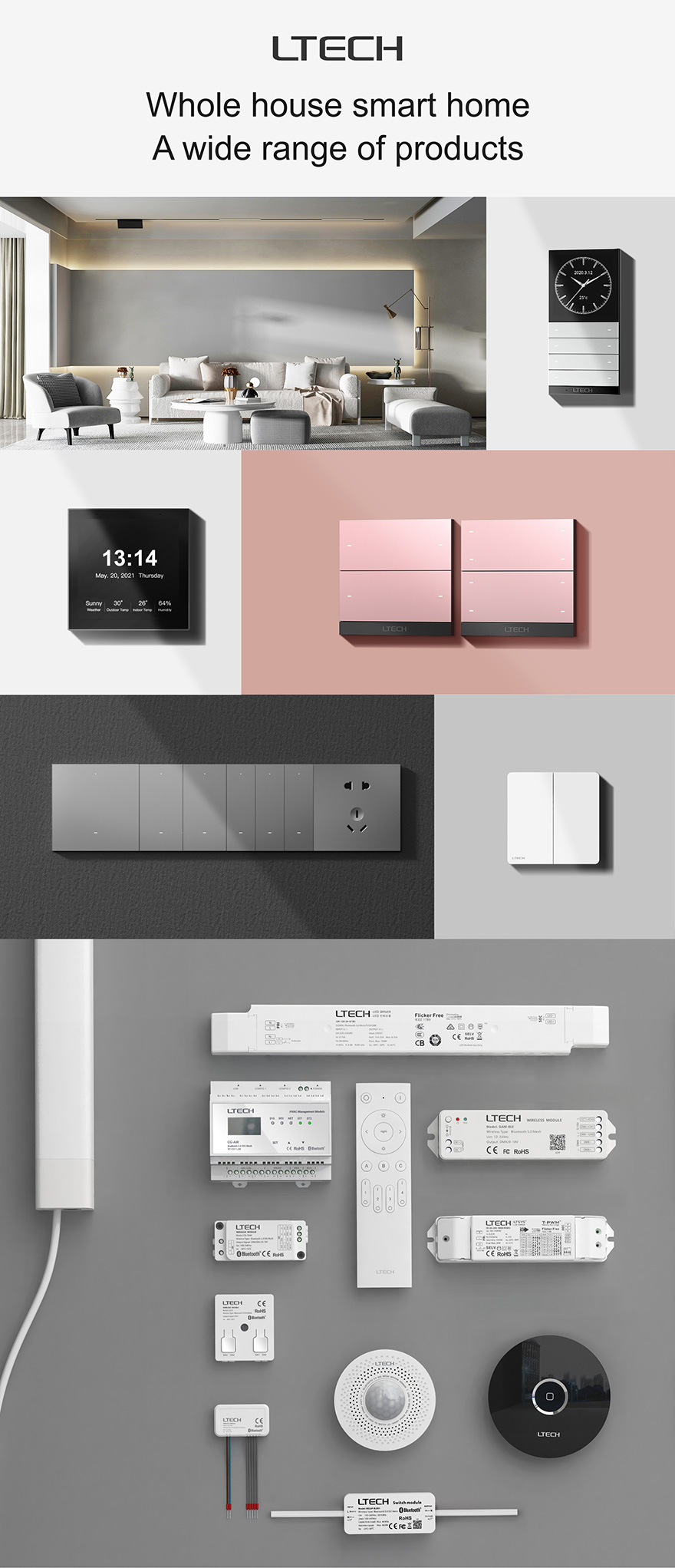 Intelligent lighting- related scenes are very common in our lives. Smart home is an inevitable trend of the industry. As the leading brand of smart home industry, LTECH has a deep understanding of user needs for smart lighting. After continuous research and exploration, LTECH creates a luxury home space with human-oriented, providing more intelligent and scene-based services in a more targeted way.